With so many acquisitions in the offseason, the San Diego Chargers have a lot to ponder in the creation of a pre-training-camp depth chart. Large voids left by big-time players still need to be filled, and while the pieces may be in reach to do so, there's still some big decisions to make as to who's ready to step up.
Last season was unacceptable for a San Diego team that was drawing interest as a possible Super Bowl pick toward the beginning of the season. As a result, both head coach and general manager are sitting in the hot seat with a lot to prove early in 2012. The AFC West has gotten even more competitive, making a once routine trip to the playoffs an uphill one.
The personnel to get the job done is on this roster, but plugging in the right players is the biggest challenge for this talented squad. Another 8-8 season in San Diego would make life for Norv Turner and A.J. Smith a living hell.
Return Specialists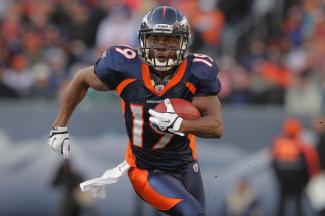 Doug Pensinger/Getty Images
Punt Returner: Eddie Royal
Kick Returner: Richard Goodman
San Diego added a number of potential return specialists to their squad in the offseason, but a crowded list of receivers on the depth chart could keep some of them from making the final cut.
Eddie Royal was underutilized this past year in Denver, and my guess is he'll end up being heavily targeted as a slot receiver in San Diego's offense this season. That being said, I'd hope the Chargers also try to incorporate him in the punt return game as well.
Royal doesn't have nearly the amount of experience returning punts as fellow offseason acquisition Roscoe Parrish, but the longtime Buffalo Bills receiver is coming off two injury-laden seasons. Parrish's biggest concern will be making the team, let alone competing for the punt return job.
Richard Goodman had almost 1,000 yards in kick returns last season for the Chargers, but Michael Spurlock, who came over from Tampa Bay, is sure to give him a run for his money as kick returner.
The winner here is a real toss-up from my viewpoint as either guy would satisfy the position. I have a feeling Goodman will blossom into this role now that he has a year of experience under his belt.
Special Teams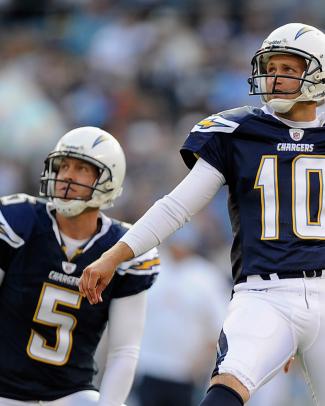 Kevork Djansezian/Getty Images
Kicker: Nate Kaeding
While the Chargers have elected to retain Nick Novak for now, I'm still convinced that Nate Kaeding will win his job back after suffering a season-ending injury in early 2011. Novak hit 27 of 34 field goals in Kaeding's absence last season, but a healthy Kaeding is one of the most accurate kickers in football.
Punter: Mike Scifres
It's almost unfair that San Diego's special-teams unit is rounded out by an equally talented punter like Mike Scifres. There's no question Scifres has the leg to pin teams back in their own territory, but sloppy return coverage in the past has completely defeated the purpose of having a strong-legged punter.
Free Safety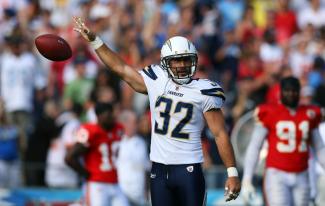 Donald Miralle/Getty Images
Starter: Eric Weddle
Reserve: Brandon Taylor, Darrell Stuckey
Eric Weddle had yet another impressive year patrolling San Diego's defensive backfield. So good, in fact, that he earned a trip to his first Pro Bowl for the 2011 season. The Chargers inked their All-Pro safety to a new five-year deal in July, making him the highest paid safety in the NFL. I'd say this spot is far more than just locked up.
Sitting underneath Weddle is a very thin list of suitable replacements. Immediately, I have to think that Brandon Taylor comes into play here, even though he's listed as a strong safety.
Right under him I have three-year man Darrell Stuckey, who hasn't played all that much but has shown glimpses of potential on special teams. Nick Polk, a second-year player, and rookie Sean Cattouse round out the reserves list.
Strong Safety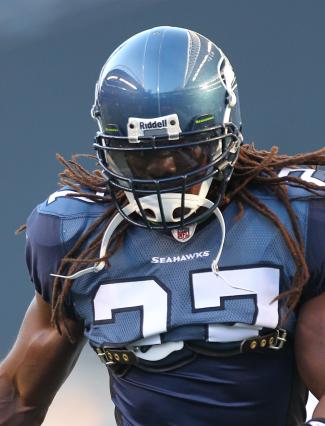 Otto Greule Jr/Getty Images
Starter: Atari Bigby
Reserve: Brandon Taylor
Going into training, it seems more than likely that former Seattle Seahawks safety Atari Bigby will get the starting nod over rookie Brandon Taylor. General manager A.J. Smith and head coach Norv Turner have both publicly praised Bigby for his play in past seasons with Seattle and Green Bay, going so far as to say he has starting potential in San Diego's defense.
Eventually, Taylor will get his chance to land the starting job, and I wouldn't be surprised if he gets that chance earlier than most people expect. The Chargers wouldn't have moved up in the third round of the draft to take the former LSU safety if they didn't think he was ready to inherit the opening initially left by Steve Gregory.
Cornerback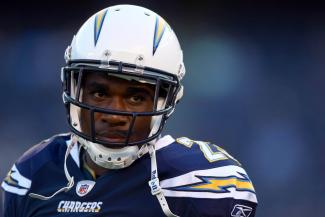 Donald Miralle/Getty Images
Starters: Quentin Jammer, Antoine Cason
Reserves: Marcus Gilchrist, Shareece Wright
An article by the Union-Tribune San Diego indicates that off-the-field issues contributed to career-low numbers for Quentin Jammer last season. While the 11-year veteran will almost certainly be San Diego's starting cornerback again this season, there's absolutely no room for error with Jammer being in a contract year.
Alongside Jammer will be Antoine Cason, who has come on strong his last two seasons, totaling 17 pass deflections and six interceptions since 2010.
Second-year players Marcus Gilchrist and Shareece Wright complete this unit, with Gilchrist having more experience. In his first season, Gilchrist played in 14 games while collecting two interceptions, 34 tackles and a fumble recovery.
Outside Linebackers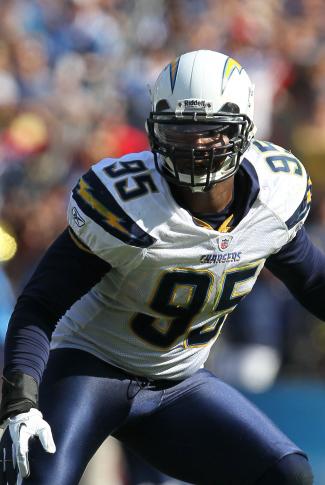 Stephen Dunn/Getty Images
Starters: Shaun Phillips, Jarret Johnson
Reserves: Antwan Barnes, Melvin Ingram
Shaun Phillips' production took a huge hit last season after an outstanding 2010 in which he totaled 55 tackles and 11 sacks. That drop in production was largely in part of a foot injury that hindered him in the latter half of the season, but I'm confident he'll come back strong in 2012.
Ex-Baltimore Ravens linebacker Jarret Johnson was a bonus addition in the offseason, and while he doesn't address the problems in the pass rush, he's certainly going to be an integral part of the run defense. 
Antwan Barnes and first-round draft pick Melvin Ingram should be at the top of the list in a rotation at outside linebacker, especially on third-down situations. Barnes had a monster year in the pass rush with 11 sacks, and Ingram's sole purpose of being drafted was to contribute in effectively rushing the passer. 
Inside Linebackers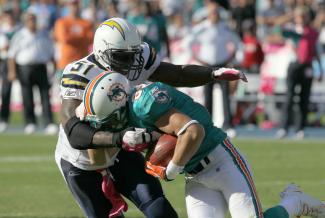 Stephen Dunn/Getty Images
Starters: Takeo Spikes, Donald Butler
Reserves: Demorrio Williams, Jonas Mouton
At 35 years of age, Takeo Spikes hasn't lost a step as an NFL linebacker. The 14-year veteran led San Diego in tackles (106) last season, and he's still going strong as he approaches his 15th season.
Donald Butler followed right behind Spikes with 96 tackles of his own, becoming the team's second leading tackler in 2011. Butler is still just 23 years old and learning, but I expect big things from him next season playing alongside one of the best.
The signing of Demorrio Williams from Kansas City adds some more veteran depth to the linebacking corps, while former 2011 second-round pick Jonas Mouton finally makes his debut after being placed on season-ending injured reserve last season.
Mouton has a lot of catching up to do in order to make the team, but his play at Michigan makes me think he has what it takes to fill a reserve slot in this position. 
Defensive Line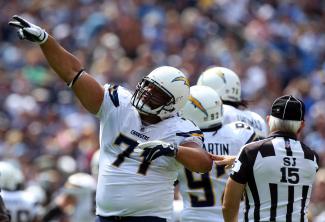 Donald Miralle/Getty Images
Starters: Antonio Garay, Vaughn Martin, Corey Liuget
Reserves: Luis Castillo, Jacques Cesaire, Kendall Reyes, Cam Thomas
Defensive line hasn't been the team's strong suit as of late, but a few new faces provide hope that things will be different in 2012. Starters include Antonio Garay, Vaughn Martin and second-year man Corey Liuget. Of the three, Liuget has the most to prove after a far-from-impressive rookie season.
Luis Castillo was once a star on San Diego's defensive line but now faces the pressure of winning his starting job back.
Rookie Kendall Reyes really caught my eye coming out of college, and his versatility is a perfect fit in San Diego's 3-4 scheme.
Like the linebackers unit, I assume that new defensive coordinator John Pagano will employ a rotation to keep this line fresh.
Offensive Line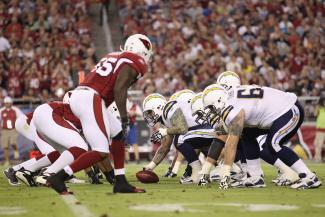 Christian Petersen/Getty Images
Starters: Jared Gaither, Rex Hadnot, Nick Hardwick, Louis Vasquez, Jeromey Clary
Reserves: Mario Henderson, Brandyn Dombrowski, Tyronne Green, Nick Molk
San Diego's offensive line lost one of the best in team history with the retirement of All-Pro guard Kris Dielman this offseason, but the Chargers did well to bring in help through the draft and free agency.
Thankfully, Nick Hardwick elected not to retire, leaving San Diego with an anchor on the line.
Jared Gaither replaces Marcus McNeil at left tackle, and Ex-Arizona Cardinal Rex Hadnot should be favored to fill in Dielman's spot. Initially, this opening would have gone to reserve guard Tyronne Green, but Hadnot is a nine-year veteran who started all 16 games for Arizona in 2011.
Even though Brandyn Dombrowski has been somewhat inconsistent when given playing time, I still like what he brings to the table as a reserve. His versatility really benefits the Chargers should an injury occur.
Rookie Nick Molk is a nice addition as well, especially considering he was one of the top two centers in college football last season.
Tight End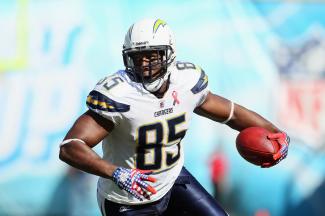 Jeff Gross/Getty Images
Starter: Antonio Gates
Reserves: Randy McMichael, Ladarius Green
Like any Chargers fan, I am praying that Antonio Gates' lingering foot problem doesn't show up during this season, but the 10-year veteran still finds a way to play through the pain anyway.
Gates and Randy McMichael are two very smart veteran tight ends with plenty to offer the Bolts on offense and plenty of advice to give to new rookie tight end Ladarius Green. I don't expect Green to see a lot of playing on offense, but you never know how Gates' foot will respond during an entire season.
My guess is that San Diego will start preparing the talented rookie in case the worst happens.
Wide Receivers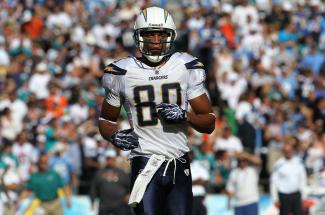 Stephen Dunn/Getty Images
Starters: Malcom Floyd, Robert Meachem
Reserves: Eddie Royal, Vincent Brown
Losing Vincent Jackson to Tampa Bay was a tough loss for the Chargers, but Malcom Floyd has all the talent to be San Diego's next big receiver. The new addition of former New Orleans Saints receiver Robert Meachem doesn't hurt either.
Ex-Denver Broncos receiver Eddie Royal should get a lot of work in the slot, and rising star Vincent Brown should continue to blossom into another solid target. 
I would add another receiver to the reserves list, but it's a little to early to tell who's going to get more touches on offense among some of the free agents San Diego acquired in the offseason. I'd like to say that former Buffalo Bills receiver Roscoe Parrish will come on strong, but his past injuries make it difficult to tell if he can make a comeback.
Running Back, Fullback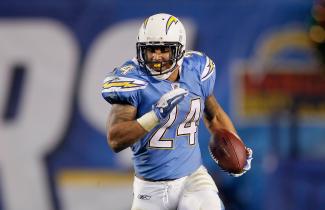 Jeff Gross/Getty Images
Starters: Ryan Mathews, Le'Ron McClain
Reserves: Ronnie Brown, Curtis Brinkley, Jacob Hester
There's been a lot of buzz that Ryan Mathews will be relied upon to be a workhorse back this season, but he wasn't left hanging by the Chargers front office. Le'Ron McClain is going to make things a lot easier in the run game, clearing the way for Mathews, who hasn't had much help in that department recently.
The one real question I have is if Ronnie Brown is ready to give it another go in a backup role. Brown was almost non-existent in Philadelphia last season with career-low numbers. Reports are that Mathews will still handle an expanded workload despite the recently added help.
Quarterback

Thearon W. Henderson/Getty Images
Starter: Philip Rivers
Reserve: Charlie Whitehurst
No matter what way you spin it, Philip Rivers is the most important piece of this team and will eventually decide San Diego's fate. Last season was an abysmal performance for Rivers despite making the Pro Bowl, and the Chargers paid the price in missing the playoffs.
Simply put, if Rivers doesn't shake off that rust from 2011, then a playoff run is far from reality for this team. 
Begin Slideshow
Keep Reading

San Diego Chargers: Like this team?