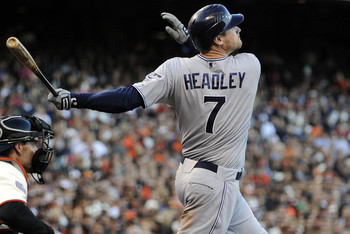 The Major League Baseball All-Star break is a fitting time for clubs to assess their roster and to prepare for the second half of the season. With the addition of a second wild-card spot for this season, there are more teams in contention for a playoff berth than in the past.
That is not to say that there are not those teams who have been all but mathematically eliminated from the postseason, such as the San Diego Padres.
What's interesting about the Padres is that they carry quite a few trade chips that would be very attractive for many teams. Almost half of the Major Leagues is within striking distance of a playoff spot. A position of need for 10 of those teams is third base, and the Padres just happen to hold one of the best in the Majors on a very affordable contract: Chase Headley.
While he may not have the fanfare of a Carlos Quentin or of All-Star Huston Street, Headley is cost-controllable for two more years and is a man among boys with his glove at third base.
Trading away Headley has its significant advantages. First, it's important to understand that the Padres are not going to contend for the division or a playoff spot for at least two more seasons. Therefore, it's vital to the organization to trade its (soon-to-be unaffordable) assets for major building blocks.
There are so many MLB clubs on the cusp of the playoffs who have deep farm systems and fringe MLB players manning third base that it is almost unconscionable that the Padres do not at least entertain the idea of trading away Headley.
(Photo courtesy of http://mlbfranchiseinsider.wordpress.com)
Begin Slideshow
Keep Reading