The second half of the season is about to kick off and the San Diego Padres are not in last place, well sort of.
The Padres are currently 34-53, and tied with the Rockies for last in the National League West, although the Padres have one more win and one more loss than the Rockies.
And, if there's one thing we've seen from the Padres all year, there are holes everywhere.
But, for this article, I will focus on the starting pitching.
When looking at stats, the Padres' starting pitching has numbers all over the place.
Their 4.03 ERA is eighth in the league and their .250 opposing batting average is seventh. But, on the negative side, the Padres' starters have a 1.33 WHIP (14th) and have walked 196 batters (last). So you see, the numbers are everywhere.
Here's a look at the Padres' rotation and one prediction for each starter.
Edinson Volquez

Donald Miralle/Getty Images
Although the numbers don't look sexy for Volquez, the one thing Padres fans can count on is Volquez taking his turn in the rotation every five days.
Currently, Volquez is 5-7 with a 3.52 ERA and 98 strikeouts.
If you take out a rough three-week stretch the right-hander had between May 17 and June 8, then Volquez has actually pitched very well this year.
The one knock on him is that he leads the league in walks with 63.
As the season goes on, Volquez will continue to take the ball every fifth day, but other than his ERA and strikeouts, I don't expect his numbers to be any better than they currently are now.
Prediction: Volquez will finish the year with 11 wins and 185 strikeouts.
Clayton Richard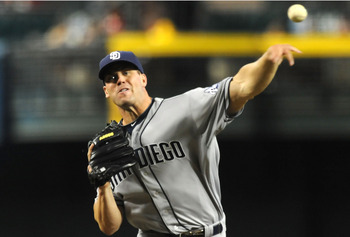 Norm Hall/Getty Images
Richard is another one of the Padres' pitchers that has been hard on his luck this year, although things have picked up lately.
Currently, the left-hander is 6-9 with a 3.91 ERA and 68 strikeouts.
Over his last six starts, Richard has won four of them, with one of his losses coming after giving up one run.
Richard has the ability to be .500 or better with his record, but with the Padres' offense, that might be hard to do.
Prediction: Richard will finish the year close to .500, but will come up short with a 14-16 record. His ERA, however, will drop to around 3.60.
Jason Marquis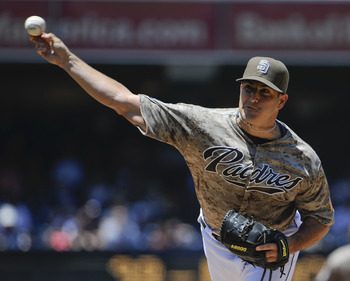 Denis Poroy/Getty Images
Honestly, I think the only reason why Marquis is with the Padres is because top prospect Casey Kelly is injured.
As it is, Padres fans are stuck with Marquis, who has a record of 1-5 and a 3.71 ERA with the team.
My hope is that Kelly will get well soon (no pun intended) and Marquis can just ride off into the sunset.
Prediction: Marquis will not finish the season in the Padres' rotation, ultimately getting released by the team.
Andrew Cashner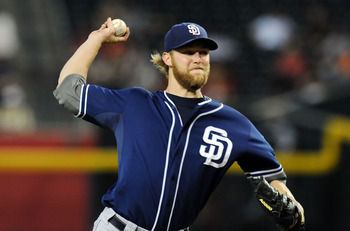 Norm Hall/Getty Images
Cashner is currently on the 15-day disabled list with a strained muscle.
This year, Cashner is 3-3 with a 3.44 ERA, but that's been between the bullpen and the rotation.
It's been hard to forecast where he's going to end up at the season's end. 
There's no doubt that injuries to the Padres' rotation forced him in from the bullpen, but when those guys get healthy for next year, will he still be in the rotation?
For now, though, we won't worry about that and just make a prediction for this season.
Prediction: Cashner will finish the year with seven wins and a 3.50 ERA.
Kip Wells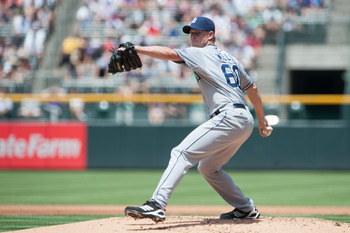 Dustin Bradford/Getty Images
In the three games he's pitched for the Padres, Wells has actually been pretty impressive, even with his 1-2 record.
He currently has a 2.50 ERA and pitched seven shutout innings in Colorado for his only win.
The jury is still out on Wells, as you have to go back to 2009 to find other big league stats on him.
But he'll stick with the rotation through the rest of the season and we'll get to see what he's made of.
Prediction: Wells will also finish with seven wins, but will have the lowest ERA on the team.
Begin Slideshow
Keep Reading

San Diego Padres: Like this team?