The long saga between Vincent Jackson and the San Diego Chargers finally ended this offseason. Jackson got a long-term deal and the Chargers no longer have a headache. While the divorce between Jackson and the Chargers was a good thing for both sides, it isn't easy to replace a good receiver like Jackson.
Even though the Chargers knew the day was coming, they weren't prepared for life without Jackson. Vincent Brown and Malcom Floyd needed help, and the Chargers picked up Eddie Royal and Robert Meachem in free agency. Royal is expected to play in the slot with Meachem starting in Jackson's old spot on the outside.
With Meachem and Floyd on the outside, Philip Rivers is going to have to decide which of the two is going to be his go-to receiver. While Floyd did an admirable job in Jackson's long absence in 2010, it's the younger Meachem that will become the No. 1 option in San Diego.
Meachem started 25 games for the Saints over the past four years and hasn't missed a game in the last three. In New Orleans, Meachem was never a a consistent starter, and in many ways, he has had a disappointing career. However, the Chargers have to be encouraged by Meachem's production when he was given an opportunity in New Orleans.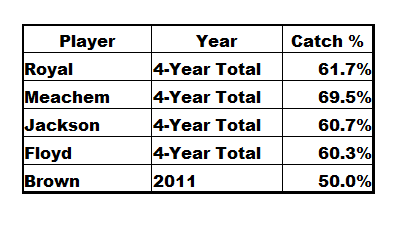 Target data used in this calculation via ProFootballFocus.com
ProFootballFocus compiles statistics for how many times a receiver was targeted. Using this, it can be determined that Meachem caught 69.5 percent of the passes thrown in his direction over the past four years. Both Jackson and Floyd have about a 60 percent catch rate over the past four years.
Part of this discrepancy could have to do with the offensive schemes. Norv Turner's offense has utilized tall receivers that can win a jump ball and deeper pass routes while New Orleans used more of a dink and dunk offense. Look no further than the yards-per-catch statistic. Both Floyd and Jackson are over 18 yards per catch over the last four years compared to Meachem who has averaged 16.1 yards per reception.
There's a good chance Meachem's catch rate will drop in 2012 due to the differences in the offenses, but he's also going to get more opportunities. Jackson averaged 6.4 targets per game over the last four years. That's over 100 targets that will have to be distributed among the Chargers' other weapons in the passing game.
In 2010, Jackson held out for 10 games, and Floyd saw a bump in targets from 4.6 targets per game in 2009 to 6.7 targets per game in 2010. Floyd's targets dropped to 5.7 per game with Jackson back in the fold in 2011. Floyd had too many things working against him to steal a significant portion of the targets that Jackson left up for grabs this time. He's had trouble staying healthy and hasn't played a full season since 2009; plus he'll be 31 in September.

Target data via ProFootballFocus.com
Although their roles were completely different, Meachem actually played in a higher percentage of the overall snaps when healthy than Floyd, based on data compiled by ProFootballFocus. That's significant to those thinking Floyd will end up being the No. 1 option when the coaching staff and team stop hyping their offseason acquisition.
For Meachem, the opportunity is going to be there to produce, and Floyd isn't likely to significantly cut into him. It's enough opportunity that both Michael Gehlken and Kevin Acee of the San Diego Union Tribune have Meachem pegged for a big season in 2012.
Meachem is not nearly as tall as Jackson, and that could make a difference when it comes to pulling down jump balls from Rivers, but his speed and strength should enable him to get off of press coverage and stretch the defense vertically, opening up opportunities for Eddie Royal, Vincent Brown and Antonio Gates.
Which player will be Philip Rivers no. 1 receiver in 2012?
Which player will be Philip Rivers no. 1 receiver in 2012?
Robert Meachem

Malcom Floyd

Antonio Gates

Other
While Meachem isn't as tall as Jackson and isn't likely to pull down as many jump balls, he's actually been just as effective at scoring touchdowns. Over 16 percent of Meachem's receptions were for touchdowns over the last four seasons which is significantly higher than Jackson's 13.9 percent and Floyd's 10.5 percent touchdown percentage. The difference in percentage could have to do with the way the Saints used Meachem, but that should only reaffirm his ability in the red zone. He should be just as dangerous in the red zone as Jackson.
Rivers will fall in love with Meachem because he'll always be ready. Unlike Jackson, Rivers had to get involved in the passing game early; Meachem is accustomed to being ready anytime his number is called. That's just the way it worked in New Orleans; any receiver could have a big day or only receive one or two looks from Brees.
When your star receiver is running routes at half speed because he's not getting the ball, that hurts the entire team because the start receiver is still going to be the guy the quarterback looks for in big moments and in big situations. Too many times Jackson was caught napping when Rivers looked his way, and the ball fell incomplete. With Meachem, that should never happen.