Petco Park is enormous. Clearly.
It frustrates hitters and bores fans with the lack of offense.
The San Diego Union Tribune recalls a time when Phil Nevin, a mild-tempered player, was so enraged by the dimensions at Petco Park that he yelled at then General Manager Kevin Towers.
But Nevin's frustrations with Petco have caused him the most grief. The latest incident happened two Sundays back, in a loss here to Pittsburgh, when his opposite-field drive toward the short Home Run Porch missed being a homer and became a double when it struck the wall behind the seats.

Nevin, standing on second when the team failed to score, fired his helmet toward the Padres dugout, stared in the direction of General Manager Kevin Towers' suite and uttered expletives easily recognized even by those who cannot read lips.
Some of my colleagues have also mused on whether or not Adrian Gonzalez would still be with the Padres had the fences moved in earlier. 
Rumor has it previous CEO Jeff Moorad was set in his ways and stubbornly claimed Petco Park would not change its dimensions. However, Moorad resigned shortly before the MLB began it's approval process of the new O'Malley ownership. Interim CEO Tom Garfunkel told the U-T's Bill Cente:
We're open-minded and we're seriously considering it....But a solidly hit ball should be rewarded. Baseball is a match between the pitcher and the hitter. We've seen a number of times here where the hitter wins that battle and gets nothing to show for it.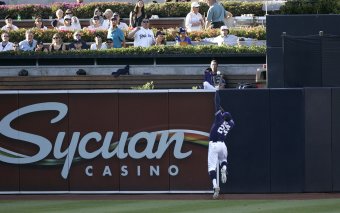 Kent Horner/Getty Images
The Padres, and their fans are in desperate need of a wake-up call. 
Surprisingly supporting Garfunkel's argument are current Head Coach Bud Black and GM Josh Byrnes.
Black was quoted in the U-T saying, "I'd be in favor of moving them in."
And Byrnes later in the article, "I'm very much in agreement with what Tom is talking about."
I recently quoted their attendance ratings, and to no one's surprise, they rank near the bottom of the MLB. Their anemic offense literally needs all the help it can get for putting runs on the board and fans in the seats.
To become a successful and a perennial contender, every team must have fans. Fans bring money, money buys and develops players, which all add up to a championship. 
The main area which would benefit is center right field, which currently is a staggering 420 feet. I'm a firm believer that no area of the park should be over 400 feet besides straightaway center. Not only would this add considerable offense for our left-handed hitters, it will take significant pressure off of the right and center fielders.
Though Cameron Maybin is a great defensive center fielder, Will Venable's play in right field has been much scrutinized and there is speculation that the Padres will target a new right fielder in the offseason. 
If the big three (CEO, GM and Head Coach) are all behind this, I can't foresee a reason not to bring the fences in. Petco Park will still continue to be a pitchers' park, but it will be less extreme and help many aspects of the Padres franchise.